TOS and FAQs
🔴 FORMAL COMMISSIONS CLOSED 🔴
For the moment whilst overhauling that and finishing up a few projects!
Until then: Catch an in-stream Ko-fi Order! ♥
---
Here's a listing of some Frequently asked questions to peruse until that's open once more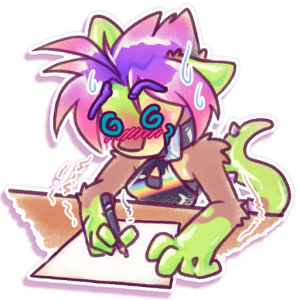 🔎 FREQUENTLY ASKED QUESTIONS 🔍
❤️ Are you currently Open for Commissioning right now?
Not accepting new General orders until I've cleared a few projects.

*Catch an In-Stream Scribbles Event over on Twitch for a something til' that is back once more!
🧡 How long will it take for my order to be finished?
This depends mostly on when it will be started.
(*Which will be dictated by how big your order is & also how far down my work-load queue that sits)

Once started; orders tend to be worked on and finished up in quick succession.
🔸 If you are wanting to get an order finished up by a strict date, or simply receive that sooner than a queue-wait time; make this known when booking, & a Rush-Fee can be assessed & applied to your order.
— A Rush-Fee cost will be an extra % on top of the total order amount and will be dictated by;

• How involved an order is
• How soon that wanted
• And by how many other orders are being skipped in order to meet the desired deadline.
💛 How long is your Art Queue at the moment?
This is subject to change all the time as I'm working things off, and new orders come in.
[The current Queue can be checked here]
*Try to keep this as updated as I can; but might subjected a pinch of lag in updating!

Otherwise, ask when booking for a rough estimation!
💚 Do you sell NSFW artwork?
I do not sorry!
(..Sort of)

Anyone even lightly familiar with my work will know that a lot of the content I do cover can be very suggestive at times, so while some things might not strictly adhere to being entirely SFW; I do not sell artwork of an outright pornographic nature.

Things like;
• Tasteful Artistic Nudity
• Some 'implied, but not shown' content might be ok
• And some 'Convenient Censoring' also might be acceptable

But always check direct ahead of or when booking!
💙 Can I post artwork you have made for me from my own online spaces?
Of course you can! (You bought it afterall!)

🔹 Please still credit back to me as being the creator of artwork produced too though!
(via any of the relevant localized Social-Media hubs or website direct!)
💜 Can I sell products that Feature artwork you have made for me on it?
🔴 Not without the purchase of a Reselling Licence.

And depending how small or large your operation is will range
• From being a 3x the final Order Cost (on top) of a given order as a once-off purchase
• To being an on-going Royalties cut of sales (annual or quarterly)

*Resale Licences are up for negotiation on a case by case basis.
🔸 If you are hoping to use something drawn for you as a stand alone item (such as website banners, printing off a single personalised article of clothing, a mug for yourself or a friend as a once-off present for example)
Things like that do not require a Resale Licence (as you are not then going on to make a profit from those) but a head's up with your intentions when ordering is appreciated!
❤️🧡💛💚💙💜❤️🧡💛💚💙💜❤️🧡💛💚💙💜❤️🧡💛💚💙💜
If you have any questions outside those listed in the FAQs, might like to be added to a waiting list for when ordering is opened up once again, or like some more details Postal Order drop a line over at
mail(at)carniart.com
Thanks again & shall see you soon!